Courtesy of Cody Thrasher
The Nike Slingshot OSS irons were on the Golf Digest 2006 Hot List, but do they really belong?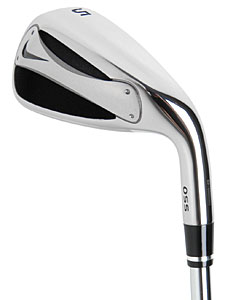 Good iron play is often overlooked, but other than putting, it could very well be the most important part of a golfer's game. I've only had two sets of irons since I started playing golf in the summer of 1997. I had a set of knock-off Cobra clubs called "King Snake" irons that got me through my first seven or eight years of golf. They were all I could afford, and I was happy with them.
Last year, I started playing with the big boys. I got a set of Titleist Forged 804.0S irons, and I've been a new golfer ever since. The move to brand-name irons has improved my play and outlook, and needless to say, it will be tough to find a set of irons worthy of replacing the 804.0S.
That's where the Nike Slingshot OSS irons come into play. I've been playing with these irons for the past few months, and I'm definitely happy with what I've seen so far. The Slingshot OSS irons were on the Golf Digest 2006 Hot List, so they were very heralded from the start. Let's take a look at what they have to offer.

Technology
The Nike Slingshot OSS takes last year's Nike Slingshot and pushes the "Slingback" further back and widens the already wider sole. If you've seen the commercials, you know there's a definite reason for that. The wide sole, which Nike calls the "dual-glide sole," was created to reduce excessive digging, enabling golfers with less-than-powerful swings to get through the turf more effectively.
The Slingback - the metal bar that arcs well behind the face of the club - technology has been increased and the bar slung further back to increase the moment of inertia (MOI). Higher MOI means more forgiving shots. Moving the weight further back in the clubhead also lowered and deepened the center of gravity (CG), making it easier to get the ball up in the air.
Finally, the face design has been modified to increase the size of the sweet spot. Though you and I both know that the sweet spot is the size of a pinhead, this has not stopped Nike from making rather preposterous claims (you've seen the ad: it shows the face of a Slingshot OSS with nearly the entire face outlined with a dotted blue line showing the supposed sweet spot). However, the cryo-steel face is thinner than last year's model and was designed to be more consistent than a cast clubface.
The Look
First impressions mean a lot when it comes to golf clubs, and forming a negative first impression is often the worst thing you can do. After all, Corey Pavin won the U.S. Open with Cleveland's VAS irons, and anyone who remembers those clubs will attest to the fact that looks can be deceiving…
That's a long way of saying that when I first saw the Nike Slingshot OSS irons, I wasn't impressed. Looks aren't everything, but these irons simply aren't very attractive. I worked past my issues, though, and didn't pass full judgment on looks alone.
The first thing I noticed was how wide they are at address compared to every other iron I've ever seen. The irons looked like hybrids or woods they were so deep. More than twice as wide as my Titleist irons, it took me more than a few rounds to adjust to the look. Those looking for a thin topline will obviously avoid these irons, and those accustomed to even the thickest Callaway toplines will probably do a double-take.
If it counts for anything, my wife thought the Slingshot OSS irons were a lot cooler looking than my Titleist irons, so perhaps I'm just a fuddy duddy.
Feel and Performance
The Nike Slingshot OSS irons are a little heavier than my Titleist irons, but not enough to really make a difference. The feel at setup varied due to the wide sole, and I found it difficult to get used to this when I started hitting shots.
I should have taken these irons to the range before playing golf. I paid the price. Throwing caution and preparation to the wind, I played golf with friends the first day I got them. My first iron shot was from 150 yards out, and I grabbed the 7-iron. I blasted the golf ball over the green and slightly to the right. I had easily hit the 7-iron 160-165 yards. I had trouble controlling my distances the rest of the day.
Needless to say, the first 18 holes with these irons were a tad shaky, especially with the 4- and 5-iron. Though I was hitting the other irons well, I could not hit anything but a large slice with these two irons. I used to hit a slice all the time, but I had corrected it since getting the Titleist irons. This worried me a little, but I was patient.
After playing with the irons eight to ten times and hitting them some at the driving range, the "slice" is no longer an issue anymore. I believe it had a lot to do with the heavier feel, which caused me to leave the clubhead behind a bit.
In the end, I still hit the Nike Slingshot OSS irons about 10 yards farther than I hit my Titleist irons. Unfortunately, that added distance has come at the cost of some accuracy and spin. Nonetheless, the irons are very solid from top to bottom.
One final note: the sound. Those who watch college baseball or play high school baseball will know exactly what I'm talking about. The sound right of impact with a medium-tier golf ball is oddly similar to that of a baseball being hit by an aluminum bat. These irons have a pronounced "ting" sound that one might expect from a large titanium driver, not a set of irons. However, as a former college baseball player, the sound didn't bother me in the least.
Specs and Other Features
The Nike Slingshot OSS irons are available in many different lofts, lies, and lengths. I highly recommend getting custom fit for any new club purchase. Trust me, it helped me greatly when getting my second set of clubs.
When it comes to shaft options, you can outfit your Nike Slingshot OSS with True Temper's Dynamic Gold 300 in X, S, R, and A flexes. There is also an iDiamana-CW Light graphite shaft as well. The lighter graphite shaft will provide more clubhead speed, and is also available in X, S, R, and A flexes.
The default set of Nike Slingshot OSS irons comes with 4-iron through A-Wedge, though 2- and 3-irons and sand wedges are optional custom orders. The suggested retail is $799 for a set with steel or $899 for graphite.
Conclusion

These irons are really solid, but they are one small step behind my Titleist 804.0S irons. The Slingshot OSS irons would be great for golfers with handicaps in the 15-25 range. My current handicap is between 11 and 12, which puts me on the outside looking in with these clubs. I could still play them and my scores wouldn't vary more than three or four strokes, but the slight difference is noticeable.
Besides the look, I can't really say many bad things about these irons. They just don't necessarily fit my golf game at this time. They are great irons, and the right golfers will have a great time playing with them. They are very forgiving (my best friend who is new to golf also hit them well), and the sweet spot really is pretty hot!
These irons will make a lot of golfers happy, especially the mid-to-high handicappers and even beginners to a certain extent. They get my personal stamp of approval and definitely lived up to the hype created by Golf Digest.